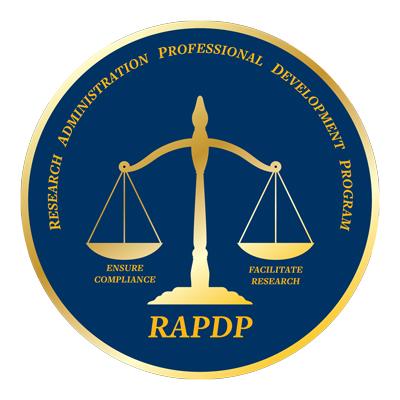 The Research Administration Professional Development Program (RAPDP) is a training curriculum designed for both new and experienced Research Administrators (RAs) as well as anyone interested possibly becoming an RA. The program consists of 21 topics that cover foundational, pre-award, post-award and specialized topic categories, delivered via eCourse, ILT (Instructor-led Training), or a combination of both. 
The purpose of RAPDP is to create a talent pipeline and foster recognition of the field as a profession. It enables employees to assess their baseline competencies and skills, and obtain professional proficiency through sequential in-depth skill building via a structured learning and development curriculum that is complemented by on-the-job training. Check out our full RAPDP Curriculum Overview, and details of the Foundational, Intermediate, and Speciality Curriculum below.
Once any or all of the curricula is completed, refer to the Instructions to Print Your Certificate(s) of Completion.