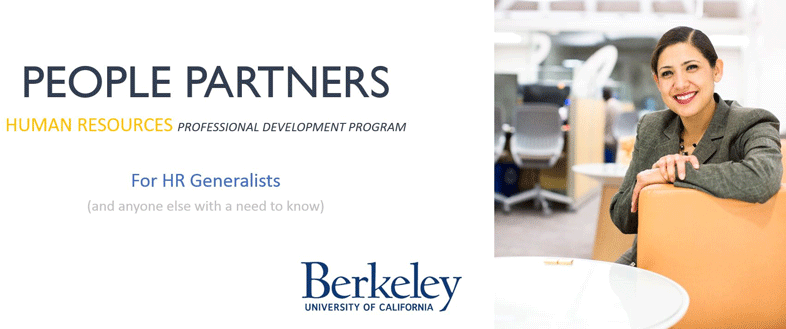 HRPDP Learning Curriculum 
HRPDP Core Courses and Deep Dives are intended for HR Generalists. Registration links for these courses are emailed to the HR community via HR Network communications.
Learning Management System (LMS) Managers Dashboard can be used to view the training transcripts of your direct reports. A short video of how to use LMS as a Manager can be found here.
The Human Resources Professional Development Program
The HR PDP has been developed to support our People Partners enterprise and to unify our various but critical HR functions and roles through an accessible and supportive learning program and community. It has been designed to support HR Generalists, Academic Personnel Analysts, and those at Central HR. We hope this resource will help you grow professionally and personally and will connect you with our many dispersed subject matter experts who are here to help you succeed.
New to Cal? Have your manager forward your name so that we can provide access to the site.
A Blended Learning Platform
The HRPDP is a part online and part in-person learning program. Our primary learning materials can be found at the bCourse site in a folder called the Human Resources Professional Development Program (or HRPDP).
You must be "invited" to the site and use your CalNet ID to log in. Most of our core audience has already been invited but if you are new to campus or unable to login – please contact grow@berkeley.edu to be added.
How to Use the HRPDP
The site is designed as a "learn anywhere" program and most portions of each module can be completed in 5-20 minutes – with entire modules completed in about 90 minutes. The materials are organized in a "passive" to "active" learning format beginning with introductory materials that can be watched, read and listened to, and ending with materials that help you apply what you've learned to realistic cases and scenarios. A wide range of downloadable topic at a glance resources are also available to help you apply your learning to everyday cases and situations.
The in-person learning portion of this program will be offered as coaching sessions in which more complex cases and material can be covered in a small group setting facilitated by advanced subject matter experts.
We believe this format makes the most valuable use of your time. Given the complexity of the material, we also believe this format will help us develop a stable resource library that can be accessed whenever it is needed. This format also promises to help us train and onboard new employees more quickly.
What's in the HRPDP?
HR Generalists
This year we will be rolling out several modules specifically designed for HR Generalists. These include a module on the layoff process, corrective action (progressive discipline), working with unions, and Family Medical Leave. Additional modules will be offered in year two.
The HR Generalist Competencies can be accessed here
Expect to see modules become available in the following time-frame.
Competency Guided Development
The HRPDP has been designed to support the development of three foundational competency areas. These are relational skills (or How you do what you do!), functional skills (or What you produce!), and conceptual knowledge (What you know!). More information about these core competencies as well as prompts that support their development are part of the learning materials available at the HRPDP bcourse site.