Job Builder is an application for using Job Standards to create individual position descriptions. A Job Standard is a predefined template which describes the Scope, Key Responsibilities and Knowledge and Skills requirements of a specific job level within a job family. All Job Standards are categorized by Job Family, Job Function, Job Category and Job Code.  
To begin, please click on the "Job Builder" image above (CalNet authentication required).
Resources:
Need help getting started in the Job Builder? 
JOB BUILDER RE-LAUNCH
UCB Job Builder is the new and improved online system for writing, building and storing staff (non-student) job descriptions. It will be launched in early 2022.
UCB Job Builder (powered by JDXpert)
Coming soon in 2022!
...Stay tuned for updates
UCB Job Builder (powered by JDX) is the new replacement system for the current UC Job Builder. HR Compensation plans to roll out this new system in 2022. UCB Job Builder is a customized product of JDXpert and MarketPay Jobs.
UCB Job Builder will serve as a workflow engine and repository for staff (non-student) job descriptions. We are implementing this change to improve access to job descriptions for all staff (non-student) employees, to improve the job creation experience, and to standardize many aspects of the job description format system-wide. UCB Job Builder offers many advantages that will provide you with an improved user experience.
Advantages of the new UCB Job Builder powered by JDX:
Both PPSM (non-represented) and Covered (represented) staff job descriptions are available.

The Reclassification Cover Page questionnaire is now incorporated as part of the job description template.

Physical, Environmental, and Mental (PEM) requirements are available directly in the new system and automation is now  developed for PEMs.

Employees can acknowledge their job description directly in the new Job Builder.
How to prepare:
Be prepared to spend some time learning the new system in January, February, and March 2022.

Managers - ensure your (non-represented) employees' job descriptions are created and saved in the current Job Builder system.

Input the Position Number and Employee Name on the Position Description in the current Job Builder.

 
HR Partners - work with People & Culture Compensation team to ensure any classified non-represented job descriptions reflect the Status as 'Classified' in the current Job Builder.

Position Descriptions that are not in Classified Status in current Job Builder will not be imported into the new Job Builder (powered by JDX)
Here is a glimpse inside our new UCB Job Builder.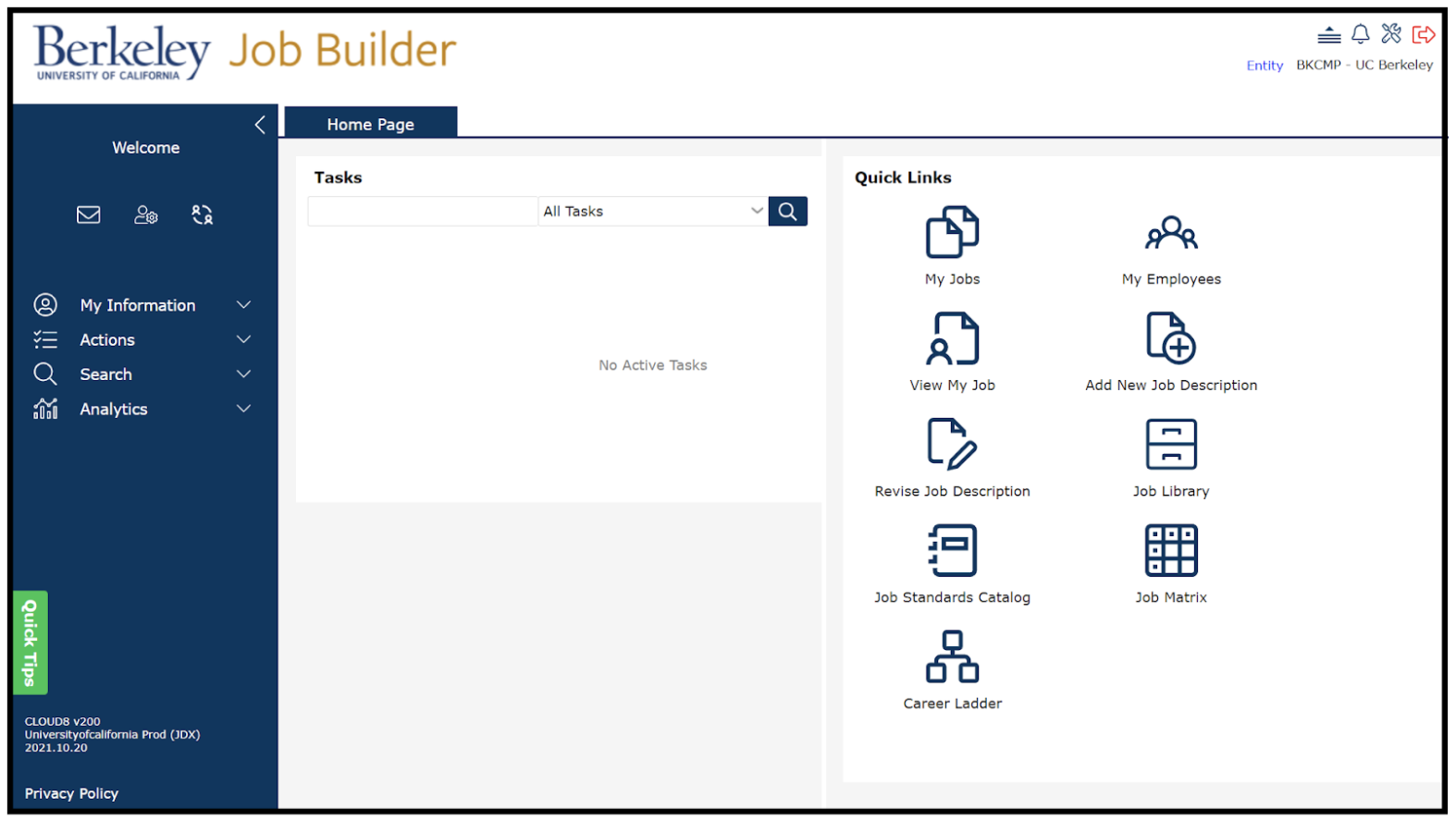 If you have questions regarding UCB Job Builder access, user accounts, or if you are having technical issues please email compdesk@berkeley.edu