Event Title
Course Code
Event Description
Event Date
Start Time
End Time
Planning for Your Next Career Move
BECAR250-190124
You have goals for your job, but how about your career? Being ready for your next career move means preparing early. In this workshop, you'll begin to frame a goal and a plan to build and sustain momentum.
Thursday, January 24, 2019
12:00
1:30
Interests in Life and Work
BECAR150-190131
The term "Interests" has very specific meaning in career development. Clarify how your interests influence the work you enjoy through the Strong Interest Inventory. Explore how interests relate to job families and opportunities on campus. PRE-WORK REQUIRED. Instructions for taking the "Strong Interest Inventory" (at least 3 days in advance) will be sent in your registration confirmation.

Thursday, January 

31, 2019
12:00
1:30
The Skills You Bring
BECAR153-190206
The skills you enjoy and feel confident about contribute to strong performance and high satisfaction. Explore your transferable skills – the ones that support your career mobility and adaptability.
Wednesday, February 06, 2019
12:00
1:30
Work Style and Your Career
BECAR151-190214
It's no surprise that people like to approach tasks differently. Understanding your preferences and those associated with various work roles can help you make informed effective choices. This workshop uses the Myers-Briggs Type Indicator. PRE-WORK REQUIRED. Instructions for taking the "Myers-Briggs Type Indicator" (at least 3 days in advance) will be sent in your registration confirmation.
Thursday, February 14, 2019
12:00
1:30
Informational Interviewing
BECAR351-190227
Thinking about an interesting career move? Have questions about the field or how to get there? Expand your career strategy toolkit by learning how to conduct effective informational interviews.
Wednesday, February 27, 2019
12:00
1:00
Effective Resume Writing
BECAR350-190312
Create a resume that gets attention and results. Learn how to create a document that highlights your transferable skills and the strengths of your unique work history.
Tuesday, March 12, 2019
12:00
1:30
Job Search Effectiveness
BECAR355-190321
We all know the importance of writing a good resume and responding to interview questions. But these tasks don't stand alone. This workshop explores the structure of an effective job search in the UC Berkeley context.
Thursday, March 21, 2019
12:00
1:30
Your Values at Work
BECAR152-190411
Values contribute to the meaning and satisfaction we find in work. This workshop offers a chance to clarify your highest-priority work related values, and explore avenues for enhancing alignment in your values and your work.
Friday, April 05, 2019
12:00
1:30
LinkedIn Basics
BECAR354-190411
LinkedIn is a great tool for establishing an online presence, conducting career research, and facilitating connection with other professionals. This workshop addresses the basics.
Thursday, April 11, 2019
12:00
1:00
Interviewing for the Job
BECAR352-190418
Job interview skills are important whether you are switching fields, seeking an advanced position along your current path, or just keeping your skills sharp. This workshop provides an effective framework for expressing your qualifications.
Thursday, April 18, 2019
12:00
1:30

LinkedIn Part 2: Maximize Your Online Professional Presence

BECAR356 (New)

Make sure your LinkedIn profile is serving you by understanding what your readers look for. This hands-on workshop is a chance to incorporate tips from a UC Berkeley recruiter. We encourage you to bring a tablet, laptop or smart phone.

Thursday, April 25, 2019

12:00
1:00
Job Interview Practice
BECAR353-190503

Practice what you learned in 

Interviewing for the Job

 in this supportive small-group practice session. Nothing helps build confidence quite like practice and supportive feedback.

Friday, May 03, 2019
12:00
1:30

Design Your Life, Step 2

BECAR251 (New)

Feeling stuck? Unsure about your next career step? Curious about how to get started in a new field or role? In this workshop, we'll use design thinking to explore how you can create a sustainable life and work where you thrive. Learn tools to help you navigate your career path, get unstuck, and try out easy changes to increase your wellbeing and satisfaction at work. This is a perfect "Step 2" after the keynote address and workshop on Design Thinking at the 2018 NOW (Next Opportunity at Work) Conference.

Thursday, May 23, 2019

12:00
1:00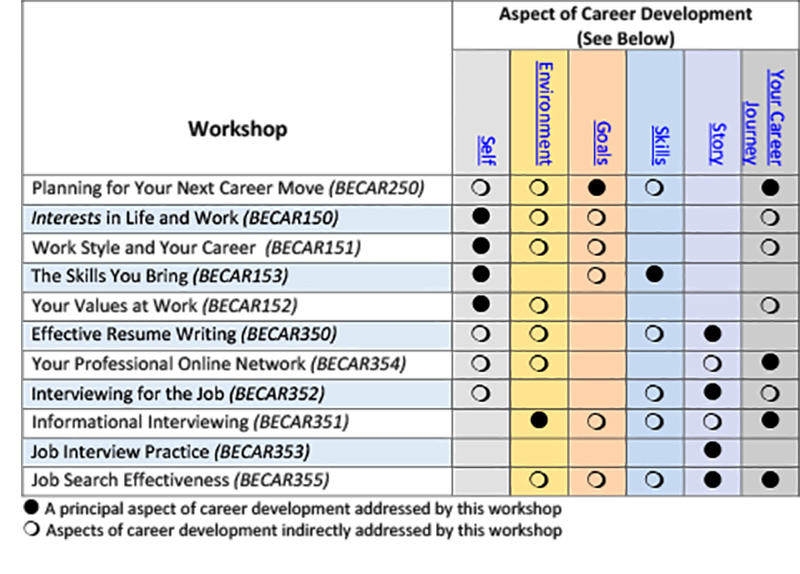 ENROLL at the UCB Learning Center, Category: Professional Skills and Career Development. For more information, contact Terrie Moore at terriemoore@berkeley.edu, or (510) 664-5068.
---
Learn More