This systemwide program is available for seasoned people leaders as well as anyone desiring to become a team lead, supervisor, or manager. The series consists of core and elective courses covering the following topics: Performance Management, Managing Implicit Bias, Managing People, Administration and Operations, Change Management, and Communications.
The series, designed to increase people management capabilities at UC Berkeley as well as across the entire UC system, provides:
Access to baseline people management skills
Flexibility to complete the program via online courses or by a combination of online and in-person courses
Those who complete the UC Systemwide People Management Certificate are eligible to attend the UC People Management Conference. The goal of this annual conference is to provide attendees with the opportunity to continue their learning and build connections across leadership levels and the UC System.
All courses are available from the UC Learning Center. In order to obtain a UC Systemwide People Management Certificate, you will need to complete all 16 Core Courses plus 4 Elective Courses (one from each competency).
NOTE: Although the certificate is open to all staff, the BPM workshops are best suited to current Managers/Supervisors/Team Leads. BPM content includes exercises and material specifically designed for individuals with people management experience.
Check out our Frequently Asked Questions
Click Here to Download a Flowchart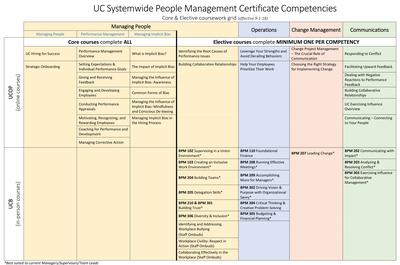 For questions regarding certificate completion status or for technical support, contact e-learningsupport@berkeley.edu