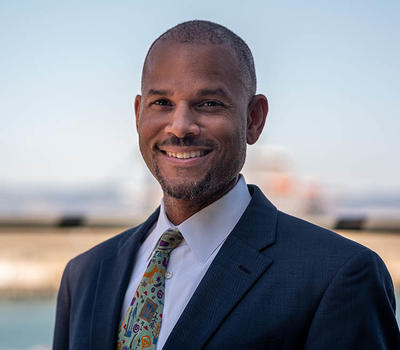 Eugene Whitlock, Chief People & Culture Officer / Assistant Vice Chancellor - Human Resources, UC Berkeley.
For five years, Eugene served as Vice Chancellor, Human Resources, and General Counsel of the San Mateo County Community College District, which serves 45,000 students across three colleges. In his human resources role, Eugene led the District's equity-focused recruitment which resulted in the increased hiring of staff and faculty from underrepresented backgrounds. He championed professional development opportunities for employees, developed workshops and training on harassment and discrimination, and led efforts to support faculty and staff in order to enhance the employee experience. As a passionate advocate for diversity, equity, and inclusion, Eugene has been invited by the California Community Colleges State Chancellor, community colleges, and K-12 school districts throughout California to deliver training to Board members, administrators, faculty, and staff.  In 2017, Eugene's work was recognized by his peers who selected him for the "Progress in Diversity" award given for "Outstanding Achievement in Support of Diversity in the Higher Education Community."
In his role as General Counsel, Eugene advised the District on general litigation, privacy and data security, wage and hour rules, disability, accommodations, leave policies, contracts, the Brown Act, the Education Code, and the Labor Code. Eugene also led the District's International Student Program, focusing on growing the program's enrollment of students from Africa and South America.
Prior to joining the Community College District, Eugene's professional background includes legal, investment banking, and project management roles in the U.S., Germany, Japan, and Venezuela. He has a strong affinity for academia and learning that brought him to the Community College District, and now to Berkeley.
Eugene obtained his undergraduate degree in Biological Sciences from Stanford University and earned his law degree cum laude from the University of Michigan. He is also a fluent speaker of Spanish and German.