Scheduled to open May 5, 2021, this 3-story medical office building — located just off San Pablo Avenue in Berkeley, California — will help make it more convenient for members to access care.
The Berkeley Medical Offices will begin offering the services of 20 adult and family medicine physicians, 5 pediatricians, 8 ob-gyn physicians and 2 mental health care providers. The 62,000 square foot facility includes x-ray and mammography imaging, laboratory, pharmacy, and an injection clinic.
Featuring 72 high-tech exam rooms and 42 provider offices, the calming, open design of the building features natural light, outdoor terraces, and two parklets.
Other features include:
Free onsite parking; 7 electric vehicle charging stations
28 bicycle racks
Accessible via AC Transit and Ashby BART via free West Berkeley shuttle
Express Check In for appointments via the KP App or on KP.org
Wi-Fi accessible at no cost throughout the building
As part of the new facility, Kaiser Permanente commissioned local artist Desi Mundo to create a mural telling a story of culture and history in the East Bay. Titled "East Bay Rising Together" it includes images from some of the prominent East Bay cultures, religions, history, and people.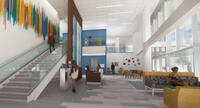 Berkeley Medical Offices
2621 Tenth Street at Parker
Berkeley, CA 94710


Learn more at kp.org/helloberkeley