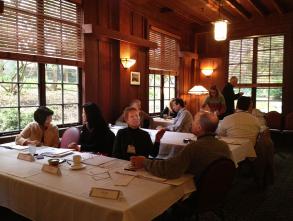 The UC Management Development Program (MDP) is a system wide initiative designed to strengthen
leadership capabilities in four UC Core Competency areas:
People Management
Employee Engagement
Exercising Influence
Change Management
An energizing program relevant to the demands facing University managers, it benefits Middle Managers who manage other Managers, Supervisors and Leads. Managers whose primary role involves translating strategy and executing work through others will find this program most relevant.
Participants in the program increase their knowledge of best management practices by:
Learning from top professionals through interactive presentations, case studies and exercises
Completing self-assessments
Building action plans
Developing an extended network of peers from other academic and administrative units who share similar challenges and experiences
Working together to identify strategies for incorporating the information learned back on the job
The Program on the UC Berkeley campus is comprised of eight sessions completed over a three month period. 
Selection for participation in the Management Development Program is via a nomination process. For more information about this program please contact us.
What UC Berkeley past participants are saying about the MDP
The UC Management Development Program is an outstanding opportunity for managers who are looking for new tools to help tackle challenges in an environment where change is constant. Learning about the different ways that people prefer to approach change gave me a new understanding of my interactions with my staff and colleagues, and I have already used this knowledge to increase the effectiveness of my communications. My experience in the program, along with the relationships I developed with the members of my cohort, left me energized and ready to enact change that I believe will have a positive impact on the UC Berkeley campus.
- Noah Beil, College of Engineering
I have leaned on the tools and techniques shared and discussed numerous times since completion of this program. It was so invigorating to apply some of the new approaches and see direct, concrete results with my staff. I often refer to the materials and consult the frameworks suggested as I strive to improve the culture and teams I work with at Berkeley-Haas.
- Tenny Frost, Alumni Relations & Development, Haas School of Business